Aug 29 2017 37430 2
How You Can Become a Trusted Agent

We'll all heard the phrase that people like to do business with those they know, like and trust. It's certainly true in the real estate business, but in life in general.

A recent post that Debbie Reynolds shared adds credibility to the importance of trust in a real estate relationship. In that post she shared a talk she had heard by Nobu Hata, Director of Member Engagement for the National Association of REALTORS®. In that discussion aboutwhat buyers and sellers want in 2017, Nobu emphasized having a trust proposition.
But how DO you become that agent buyers and sellers trust?
Consumers have access to so much information these days, much of which they can find on their own…and do. Oh, they might not understand it all, or realize what's not true – take Zillow's zestimates as one example – or get the impact it has on their buying and selling decision-making. Being a general purveyor of information is just not enough anymore.
I think trust can arise from the following – let me know what you think.
You have to speak the truth. Buyers and sellers deserve the truth, whether it's that they are unrealistic in the home search because of budget, or they think their home has way more value in the marketplace than it realistically does. They might not like what you tell them, but most will respect it, and the fact you are being honest with them (not to mention the lack of ethics, misrepresentation, and potential legality of not being honest).
And of course backing what you say up with data and examples adds credibility. Just saying "trust me" or "believe me when I say…" falls flat, and might suggest otherwise.
You have to communicate with them. I suspect nothing irks a buyer or seller more than lack of communication especially in the early phase of getting to know each other. As clients, they need it, want it, and deserve it…always. It's pretty hard to trust someone who doesn't communicate with you, or who does so infrequently or perhaps inappropriately.
You have to show them you care. It's hard to trust someone when you don't have a sense they care about you personally and your needs. I mean, what's to trust? Are they only out for themselves, and their own agenda? There are lots of ways you can show your clients that you care. Don't you feel the same about a vendor, a retailer, or someone you've enlisted to help you? And we know that actions can often speak louder than words, right?
You have to do what you say you are going to do. Saying one thing and doing another is a sure way to quickly dispel any trust someone might have for you, and will certainly not inspire their trust if they aren't there yet. And it's not just in your actions but in your communication. If you say you are going to do it, then just do it. If you say you will get them the information, or will call or email them, then doing so is essential. Plus it's another way to show you care, doesn't it?
It's not all that hard to build a relationship based on trust, although that may depend to some extent on the parties involved and their past experiences. But we also know, from our own experiences, how easy it is for trust to be violated – by what someone says, or by their actions, or violating confidentiality. Don't let that be you!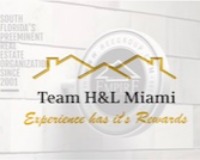 Author:
Team H and L Miami
Phone:
305-458-3583
Dated:
August 29th 2017
Views:
88
About Team: Team H&L Miami @ Real Estate Empire Group is a fast growing boutique Real Estate firm established in...