Dec 1 2017 37430 1
Why does a new owner owe a full year's property taxes?
FORT LAUDERDALE, Fla. – Nov. 30, 2017 – Question: We bought a house in late September. We just got the tax bill in the mail for the full year. It does not seem fair for us to pay the whole year when the seller lived there most of it. Do we need to pay all of this? – Andres
Answer: Yes. Real estate taxes are typically prorated at the closing when you purchased your home. The purchase contract should have had a section that deals with this issue. Since the tax bill does not become available until November, the contract directs the closing agent to take the amount of last year's taxes and split and prorate the amount based on the date of the closing.
On the closing statement that you signed, the seller will give credit for the amount of taxes for "their" part of the year to the buyer. The buyer will then pay the full amount when the tax bill comes out.
Simply put, the seller already gave you the money for its part of the year, and you must pay the whole bill when it comes out. It is analogous to when two friends are out to lunch, and one has to leave early and gives their friend the money to cover their part of the bill. The remaining friend uses this money and their own to pay the full check when it comes, plus a healthy tip for the hard-working server.
Most contracts will also state that if the taxes are more or less than the estimated amount on the closing statement the appropriate party can seek reimbursement directly from the other side. You should check your contract and closing statement to see if this is the case. Fortunately, most of the time the estimated amount is close to the real thing.
Even if you did not receive the proper credit, you now own the home and are responsible for the taxes and must pay the whole bill. You can then seek reimbursement from the responsible party as appropriate.
About the writer: Gary M. Singer is a Florida attorney and board-certified as an expert in real estate law by the Florida Bar. He practices real estate, business litigation and contract law from his office in Sunrise, Fla. He is the chairman of the Real Estate Section of the Broward County Bar Association and is a co-host of the weekly radio show Legal News and Review. He frequently consults on general real estate matters and trends in Florida with various companies across the nation.
Copyright © 2017 Sun Sentinel (Fort Lauderdale, Fla.), Gary M. Singer. Distributed by Tribune Content Agency, LLC.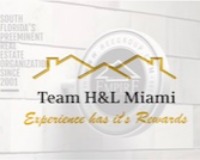 Author:
Team H and L Miami
Phone:
305-458-3583
Dated:
December 1st 2017
Views:
39
About Team: Team H&L Miami @ Real Estate Empire Group is a fast growing boutique Real Estate firm established in...