Feb 9 2018 37430 1
Warm Up Your Home With These 6 Tropical Colors
Canary yellow, tangerine, aqua and other bright shades can lift spirits in winter or anytime

Neila DeenJanuary 31, 2018 Houzz Contributor and interior designer; I think everyone should love their home....More
EmailSaveComment6Like35PrintEmbed
Click "Embed" to display an article on your own website or blog.
Whether you're fighting the winter blues or embracing summer's sizzle, adding a splash of tropical color to your home can make it feel warm, welcoming and even sunny. Island colors like turquoise, coral and fuchsia are uplifting, helping set a happy mood. While you could go big with a tropical hue by painting an entire room, you certainly don't have to add a huge swath of color to make a mighty impact. These colors pack a big design punch even in small doses. Also, they each work well with the neutral shades featured on furniture in so many of our homes — think white, beige, gray and wood tones.
So consider these six warm tropical colors as a way to wake up your home decor. If you're not heading out for a tropical vacation this winter, this could be the next-best way to hit refresh.
Echo Design41. Turquoise. This vivid blue instantly brings to mind warm tropical waters and calm sea breezes. Turquoise's intensity is offset by its sunny undertone, making it a terrific tropical accent color in almost any room of a home.
In this photo, a modern bathroom with a warm wood vanity takes on an island vibe thanks to the turquoise accent wall. The brown wood brings out the warm undertones of the bright blue. The result is vibrant and fresh.
Wall paint: similar to SW 6950 Calypso, Sherwin-Williams
Kukk Architecture & Design P.A.3Pair it with:Turquoise retains its tropical vibe when combined with various shades of pink, coral, orange and — as in this bedroom — yellow. Here, a neutral background of beige and cream helps keep the room balanced while maintaining a summery feel.
HomeLife Interiors Inc22. Tangerine. Deep orange hues can be not only cheerful but also sophisticated and timeless. This sun-drenched color is commonly found in kitchens and living rooms, and it can give bedrooms a sunny disposition as well.
In this photo, white and pale wood tones absorb any overbearing qualities of the tangerine, giving this bedroom a peaceful vacation feeling.
Wall paint: similar to Island Orange 2010-2, Valspar; browse tropical-style wicker and rattan headboards
1Pair it with: Coordinate your tropical tangerine with any shade of blue and varying shades of pink and purple.
This inviting living room is layered with orange, purple and deep pink. A backdrop of neutral beige and gray grounds this palette and keeps it tasteful, even though it's bold.
InStil Design Limited13. Canary yellow. Bright yellow evokes sunshine and hot temperatures. As with most vivid colors, less is more, especially when it also comes to primary yellow. Painting one accent wall or featuring a vivid canary-colored piece of furniture can transform a space.
In this bath, the yellow-painted window wall and coordinating yellow-accented medicine cabinets give a sunny glow.
Wall paint: similar to Yellow Mustard 3007-1A, Valspar
Crown PaintsPair it with: Coordinate your canary yellow with small doses of other brights such as turquoise, fuchsia or, as seen in this photo, leafy greens. For a less bold look, a bright yellow is more subtle when paired with a neutral color such as gray, white or pale wood.
Wall paint: Mustard Jar, Crown Paints
Leslie Fine Interiors64. Aqua. A paler blue than turquoise with a slight green undertone, aqua is a tropical pastel that adds a soothing, warm vibe to any space.
Here, aqua draperies and textiles give a townhouse living room an elegant, beachy feel. Although a muted blue, these minimal accents still pop against the pale neutral background.
Urban CasaPair it with:Aqua feels summery when paired with leafy greens, energetic fuchsia and bright yellow.
In this sunny nursery, the golden undertones of the painted aqua wall are enhanced with the bright yellow rug and smaller fuchsia-colored accessories.
Wall paint: Bird's Egg 2051-60, Benjamin Moore; browse more striped yellow rugs
Joni Spear Interior Design55. Fuchsia. Vibrant and romantic, fuchsia is a quintessential tropical color. Reminiscent of radiant bougainvillea and exotic plumeria flowers, a swath of fuchsia in any room of the home can instantly put you in a vacation mood.
This traditional living room gets a tropical feel from deep pink walls and splashes of pink and green textiles.
Wall paint: Pink Corsage 1349, Benjamin Moore
Kayo Builders, Inc.Pair it with: Fuchsia looks tropical next to other island brights like bright green, yellow, orange and, as shown in this bathroom, turquoise. These bright, multiple tropical color palettes work best when placed against a neutral background of wood, white or gray.
Wall paint: similar to Exuberant Pink SW 6840, Sherwin-Williams
Anita Clark Design46. Coral. This classic muted orange has unmistakable island charm. Also known as a deep peach or pink salmon, the color coral is, in a way, a deep pastel. It inspires images of refreshing sorbet or summer sunsets.
The formal living room shown here exudes a sophisticated glow thanks to its coral walls. The beige sofas even take on a slight peach color against the peachy-pink paint.
Wall paint: custom color; try Coral Gables 2010-40, Benjamin Moore
DKOR Interiors Inc.- Interior Designers Miami, FL1Pair it with: Try turquoise, aqua, pistachio green and brighter orange with coral. Keep in mind that the intensity of coral can change depending on what color you pair with it.
For instance, here the bright orange pillows make the coral-painted wall appear more vivid. In contrast, the use of white and more muted colors throughout the rest of the room tempers the vibrant coral and orange combination.
Wall paint: Ravishing Coral SW 6612, Sherwin-Williams
More
Take Rooms on a Tropical Trip With Turquoise and Yellow
Design Inspiration: Tropical Mexico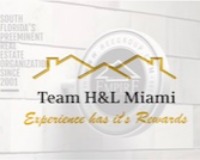 Author:
Team H and L Miami
Phone:
305-458-3583
Dated:
February 9th 2018
Views:
52
About Team: Team H&L Miami @ Real Estate Empire Group is a fast growing boutique Real Estate firm established in...