Oct 11 2017 37430 1
7 Times Simple White Paint Drastically Transformed a Room
(Image credit:
Apartment Therapy
)
No one doubts the transformation that painting an entire room in neon pink would have (bold, to say the least), but tell someone you painted an entire room white, and they might wonder what the next coat will be. These rooms prove, however, that white is its own standalone color that can make a huge impact on a space.
Perhaps white paint's biggest super power (other than being affordable and versatile, of course) is its ability to brighten up a space. Painting large surfaces in a room with a coat of white paint is like turning on a big light (without the energy bill).
More → Before and After: A Vintage Kitchen in the Desert Gets a Bright Face-Lift
A coat (or 14, depending on what was on the wall before) of white paint gives a new lease on the lives of formerly dark, spooky small spaces.
More → Before and After: A 100-Year-Old House Gets Rejuvenated
White paint can not only brighten a space, but make it feel bigger — which makes it another easy winner in my book. Allowing light to bounce around a room can visually expand a space without knocking any walls down!
More → Before & After: A Kitchen Goes from Ugh to Unrecognizable
White paint can help make dated architectural features feel more contemporary, as well as highlight elements that deserve the attention.
More → Before and After: A Dark Maroon Living Room's Bright Awakening
The transition to a white room doesn't even need to be dramatic. In the living room above you can see how great white wall paint is at making a room feel fresh and clean...and making the elements in the space feel clean, too!
More → Before and After: A 100-Year-Old House Gets Rejuvenated
White wall paint is a great unifier. It can take a disparate group of elements and turn them into a subtle, classy canvas. It's quite literally the perfect blank canvas to explore different types of design styles.
More → Before and After: An Abandoned Living and Dining Room's Total Turn Around
Even if you don't have the budget for a new countertop or fresh subway tile, you can clearly see how much of a huge impact white paint had on this home's dark and dated kitchen.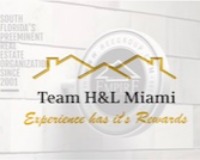 Author:
Team H and L Miami
Phone:
305-458-3583
Dated:
October 11th 2017
Views:
89
About Team: Team H&L Miami @ Real Estate Empire Group is a fast growing boutique Real Estate firm established in...