Fast and Easy Tips to Clean Your House in an Hour or Less
by Henry & Laly Sanz 03/11/2019
People tend to procrastinate when it comes to cleaning the house. Well, that shouldn't be much of a shocker as cleaning a messy house is never a pleasant job. So, you keep procrastinating until you have some guests coming over or can't deal with the feeling of living in a dirty house anymore. Frustrating, right?
If you are one of the millions out there who fall under these categories, then you are at the right place (or page) as compiled here are a couple of easy tips to back the sparkle in your home in an hour or less. Doubt it? Then, stick around as to discover how the trick works.
Pre-cleaning Tips
Step One: Get the Juice Flowing with High-Tempo Music
Cleaning your house doesn't have to be a tiresome, daunting task that you must check off your to-do list. Make it fun, easy, and fast with tempo music. Background music aims to keep you active and happy through the task. So, you can choose any music mix you love and get the volume up.
Step Two: Draft a Plan and Stick with it
Have you ever wondered why it is easier to clean someone else's house than your own? It is because you have no attachment or distraction in the house. No photo albums or old magazines are screaming for attention. Try employing the same level of focus while cleaning your home. Ditch the photo albums or magazines or quickly tuck them away first. Draft an hour plan and stick with it. No breaks or timeouts or cellphone checks. Put in all your focus, and you will finish in an hour or less.
Step 3: Always Start at the top
Our first big tip is to start from the top, irrespective of the room or activity with which you begin. Cleaning from the top ensures that dirt and dust from higher surfaces fall on 'uncleaned' lower surfaces. This order helps eliminate the time you would spend re-cleaning lower surfaces.
Step 4: Learn to De-clutter
Whether it is the living room, kitchen, or any other part of the house, always learn to organize the area before cleaning. This way you will have things off the floor and where they are supposed to be.
Step 5: Spray and Allow to Sit
An easy way to get the dirt off your tub or counters or wall is to sprinkle cleansers on them and allow it to sit for some minutes before scrubbing. The trick is that the cleansers, like detergents, help break the bonds (especially in greasy stains), making it easy to wash off. You could use the time between spraying and scrubbing to clean other areas of the house.
Step 6: Save the Floors for the Last
This point helps emphasize the importance of Step 1. Endeavor to start all cleaning activities from the top and save the floors for the last cleaning step. Organizing helps prevent spending extra time re-cleaning the floors.
Cleaning the house does not have to be a tedious and daunting exercise to check off your to-do list. Follow the steps mentioned above religiously, and you will find cleaning to be a fast and easy exercise that isn't worth procrastinating. Get your home sparkling in an hour or less!
Keep these tips in mind when your real estate agent calls for that last minute showing.
Cleaning Tips
Showing
About the Author
Henry & Laly Sanz

Team H&L Miami @ Real Estate Empire Group is a fast growing boutique Real Estate firm established in 2001. It began to revolutionize property sales as well as marketing through brokers, agents, and an administrative team. Our highly trained administration team ensures the best service possible and helps manage transactions efficiently across a spectrum of properties, prices, and sales including international transactions. Our office provides agents an opportunity to grow with market-leading training and unique tools devoted to growth and expansion.

We are based in Doral, FL placing us at the center of Miami's fast-growing International market. Our wide-ranging model combines various technologies; efficient support system and leadership initiatives that help agents govern sales in a superior form while gaining a threshold as a Real Estate agent. We at Real Estate Empire Group provide to ensure excellence in every aspect of Real Estate. We look forward to helping find your DREAM HOME.
Henry & Laly Sanz
@ Real Estate Empire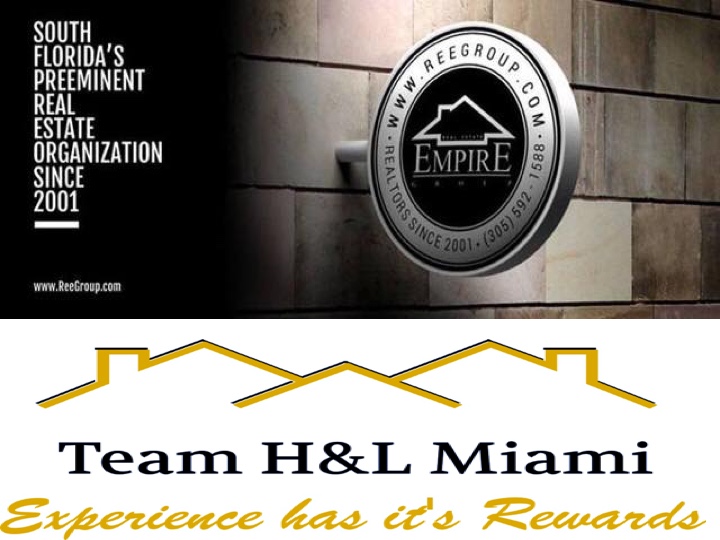 Real Estate Empire Group, Inc.
Copyright © Elm Street Technology, LLC.
All rights Reserved
Equal Housing Opportunity
Team H&L Miami @ Real Estate Empire Group is a fast growing boutique Real Estate firm established in 2001. It began to revolutionize property sales as well as marketing through brokers, agents, and an....